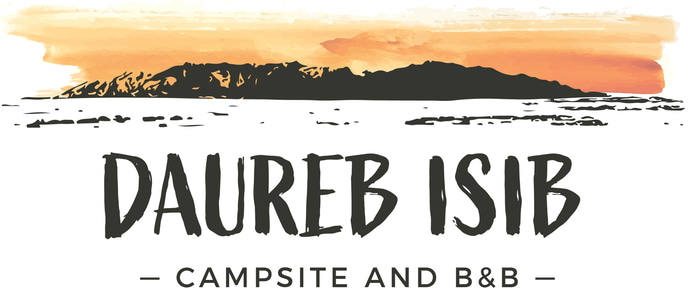 NATURE'S HAVEN IN THE HEART OF UIS, NAMIBIA
ESCAPE TO OUR OASIS IN UIS, WHERE NATURAL BEAUTY MEETS COMFORT
Daureb Isib Campsite and B&B, nestled in a desert landscaped setting, was established in 2015, stemming from a local couple's vision.
What began as a simple camping ground has flourished into a captivating oasis, featuring luxury campsites, charming glamping tents, inviting tented chalets, and a cozy stone cottage perched on the hillside.
Our establishment boasts one of the largest selections of cacti and succulents, creating a unique and picturesque ambiance for our guests.
At Daureb Isib, we pride ourselves on offering more than just a place to stay; we provide an experience. Guests can unwind in our refreshing swimming pool, find solace under the ample shade of our lapa area, or gather around the bonfire at one of our lovely bomas.
Uis is located in Damaraland, Namibia, which is known for its stunning landscapes and clear night skies. The nights in Uis are exceptionally clear, making it an ideal location for stargazing. With minimal light pollution and the vast desert expanses, the night skies in Uis offer a remarkably clear view of stars, constellations, and celestial phenomena. Staying at Daureb Isib provides a unique opportunity to enjoy the unparalleled beauty of the stars in the Namibian desert.
The heart of our oasis lies in our acclaimed restaurant, Cactus and Coffee Teagarden, where you can enjoy delectable dishes with a panoramic backdrop of the picturesque mining town of Uis. As day turns to night, relish the breathtaking vistas of the Brandberg Mountain and the mystical White Mountain of Uis.
At Daureb Isib, we invite you to embrace the tranquility of nature and the warmth of our hospitality.
Whether you're seeking a peaceful retreat or a convenient stopover, our oasis is your haven. Join us and make your stay in Uis a memorable part of your journey